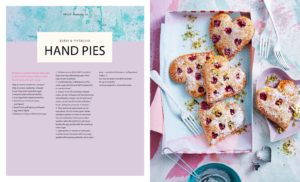 It's best to use fresh fruit for these pies as frozen fruit will give off too much liquid making the pies soggy.
Ingredients:
250g (8 ounces) strawberries, chopped
250g (8 ounces) raspberries, chopped
1/4 cup (55g) caster (superfine) sugar
2 tsp plain (all-purpose) flour
1/2 cup (65g) finely chopped pistachios
3 sheets frozen shortcrust pastry, just thawed
3 sheets frozen puff pastry, just thawed
1 egg, beaten lightly
2 tbsp icing (confectioner's) sugar)
Method:
Preheat oven to 200°C/400°F. Line three large oven trays with baking paper. Place trays in oven to preheat
Combine berries, 2 tbps of the caster sugar, the flour and half the pistachios in a medium bowl
Using a 11cm (4 1/2 inch) heart shaped cutter, cut out 12 shaped each from shortcrust and puff pastry. Using a 1cm (1/2 inch) round cutter, cut out rounds from the puff pastry hearts. Refrigerate pastry for 15 minutes
Place shortcrust pastry hearts on hot trays about 3cm (1 1/4 inches) apart. Divide strawberry mixture in centre of each heart. Top with puff pastry hearts; press edges together with a floured fork to seal. Brush lightly with egg, sprinkle with the remaining caster sugar
Bake pies for 25 minutes or until pastry is golden brown. Dust pies with icing sugar; sprinkle with remaining pistachios. Serve warm.
Prep + Cook Time: 50 minutes (+ refrigeration)
Makes 12
Tip: You can freeze uncooked hand pies for up to 2 months
Serving Suggestion: Serve with cream
FOR MORE RECIPES LIKE THIS, PURCHASE 'SWEET' BY THE AUSTRALIAN WOMEN'S WEEKLY BY CLICKING HERE.