Cosy up and indulge this winter with a recipe for chocolate decadence from Melbourne mum and food blogger, Lucy, of Bake Play Smile! This rich torte is served warm (or cool!) with a scoop of vanilla ice cream, so grab your bowls and mixers, pre-heat your oven and start baking!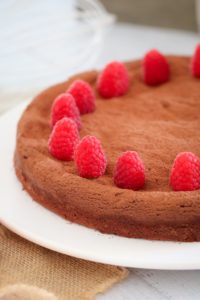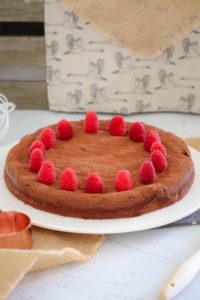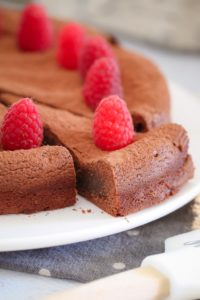 Ingredients
200g dark chocolate*
200g unsalted butter
200g caster sugar
4 eggs
50g plain flour
50g ground almonds
pinch of salt
optional to serve: cocoa powder, fresh raspberries & ice-cream
*70% cocoa chocolate is recommended for use in this torte
Method
Step 1. Preheat a fan-forced oven to 160 degrees celsius.
Step 2. Grease and line the base and sides of a 23cm round spring-form tin with baking paper and set aside until needed.
Step 3. Break the chocolate into small chunks and place into a microwave-safe bowl. Chop the butter into cubes and add to the bowl.
Step 4. Melt the butter and chocolate in the microwave for 3 minutes on 50% power. Stir every 30 seconds until melted. Allow to cool slightly.
Step 5. Place the caster sugar and eggs into a large mixing bowl. Beat with hand-held beaters or a stand mixer for 5-8 minutes or until creamy, pale and slightly thickened.
Step 6. Using a large metal spoon, gently fold the cooled chocolate mixture, followed by the plain flour, ground almond and salt through the egg mixture.
Step 7. Pour the mixture into the prepared spring-form tin and bake for 30 minutes or until set in the middle.
Step 8. Cool in the tin for 15 minutes before serving
This rich chocolate torte is lovely served warm or cool. For a decadent dessert, dust with cocoa powder and serve with vanilla ice-cream and fresh raspberries. 
About Lucy | Bake Play Smile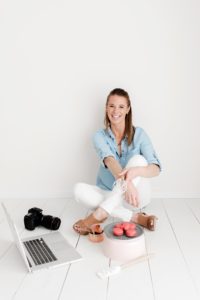 Hi, I'm Lucy! I'm a Mum (to a cheeky 2 year old boy!), a wife, a total sweet-tooth and the food blogger behind the website 'Bake Play Smile' – a happy little foodie paradise full of salted caramel goodness, chocolate-laden desserts and pretty much anything covered in sprinkles!
. . .
This recipe was created by Lucy from Bake Play Smile.
For more recipes from Lucy, visit bakeplaysmile.com
Follow her on Social Media: Instagram Facebook