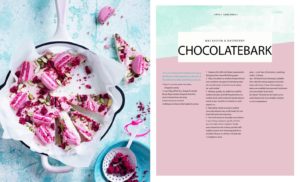 You can customise the bark by changing the flavour of the macaroons, the tint of the white chocolate and the type of nuts.
Ingredients:
720g (1 1/2 pounds) white chocolate, chopped coarsely
1/2 cup (10g) puffed rice, chopped coarsely
45g coarsely chopped pistachios
Pink oil-based food colouring
5 pink macaroons, halved
2 tablespoons freeze-dried raspberry pieces
Method:
Grease a 22cm (8 3/4 inch) (base measurement) frying pan; line base with baking paper
Place chocolate in a medium heatproof bowl over a medium saucepan of simmering water (do not allow base of bowl to touch water); stir until melted
Working quickly, stir puffed rice, half the melted chocolate and half the pistachios in a medium bowl until combined. Spread mixture evenly in pan. Stand for 20 minutes or until slightly set
Meanwhile, divide remaining melted chocolate between two small bowls; tint one bowl with pink food colouring
Pour both bowls of chocolate over mixture in pan. Using a teaspoon, gently swirl the two chocolate colours together. Gently press macaroons into the surface; sprinkle with raspberry pieces and remaining pistachios. Stand for 6 hours or until set. Cut bark into 12 wedges to serve.
Prep + Cook Time: 20 minutes (+ standing)
Makes 12 pieces
Tips: Oil-based food colouring is available from cake decorating suppliers and some large craft stores. Freeze-dried raspberry pieces are available from gourmet food stores and some health food stores
Do-Ahead: The bark can be made up to a week ahead; store in an airtight container at room temperature
FOR MORE RECIPES LIKE THIS, PURCHASE 'SWEET' BY THE AUSTRALIAN WOMEN'S WEEKLY BY CLICKING HERE.