I love Nutella, it is more like my comfort food. Nutella taste great with anything and everything. With ice cream, cookies, toast literally anything. People get really creative with Nutella variations when it comes to dessert. And do you know what is the easiest Nutella dessert of all? Nutella Popsicle. You just have to use 3 ingredients. They taste amazing. Specially an amazing summer treat.
Ingredients
2 cup full cream milk
1 cup Nutella
Sprinkles (multi color)
How To Make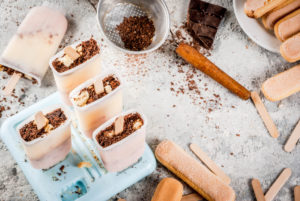 Place milk and Nutella in a shaker or a blender and mix them thoroughly without leaving any clots. after that grab some Popsicle molds and pour the mixture in to them. Freeze for at least 2 hours and roll them on sprinkles before you serve them. you can add almond milk instead of full cream milk if you like it.If you like to add fruit in the Popsicle remember to add more milk and a bit less Nutella and add any fruit you like in the  middle of the Popsicle. I personally like adding banana to it because I love the flavor of it. For another fruity twist, add any tropical fruit you prefer. watermelon and orange taste great as well.