Love Baking Club is very honoured to share this recipe from the wonderful Pearly Sprinkle. Inherited from her Nana, Pearly has added her own little tweaks to it over the years. We're so excited to share it with the Love Baking Club community and we hope you love it as much as we did!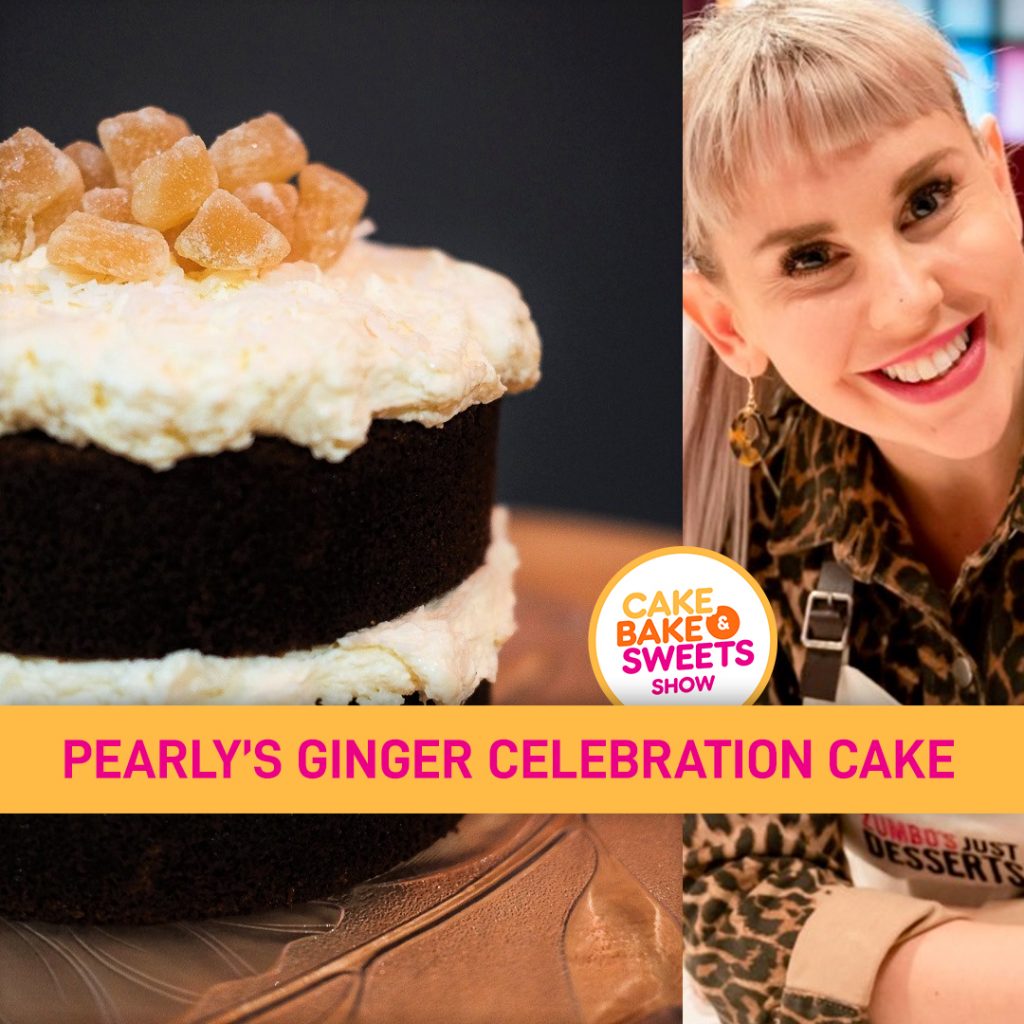 Cake Ingredients

1 cup sugar
225g salted butter
1 cup golden syrup
2 eggs, room temperature
2 ½ cups plain flour
1 dessertspoon ground ginger
1 dessertspoon ground cinnamon
1 cup milk, heated
1 teaspoon bi-carb soda
Icing Ingredients
225g unsalted butter, softened
500g icing sugar
1 tablespoon lemon juice or some drops of lemon flavouring
½ cups moist coconut flakes
Crystallised ginger and coconut flakes, to garnish
Method
1. Preheat the oven to 170 degrees (fan forced) and grease 2 six-inch cake pans with spray oil. Line the bottom of the pan with baking paper to prevent the cake sticking.

2. Add the butter and sugar together in bowl of a stand mixer and whip until fluffy and pale. Then add the eggs, one at a time, while beating in between. Next add the golden syrup and mix to combine.
3. In a separate bowl, sift the flour, ginger, and cinnamon together, and add these ingredients to the batter. Remember to start the mixer slow to prevent the flour from escaping the bowl.

4. Heat the cup of milk in a microwave for 1-2 minutes or in a small saucepan over medium heat. Add the bi- carb to the milk and stir. While still effervescing, add the milk mix to the batter and mix until incorporated.
5. Pour the batter into the cake pan and gently tap the pan on the benchtop to remove any air pockets. Bake in the oven for 60 minutes, or until a skewer inserted comes out clean, and leave on the bench to cool, before wrapping and refrigerating for 6 hours or overnight.
To Make the Icing
6. Whip the butter in the bowl of the stand mixer until light and fluffy. Add the icing sugar and continue to whip, scraping down the sides of the bowl. Add the lemon juice/flavouring and continue to beat until the icing is soft and spreadable. Add the coconut flakes and gently fold into the icing batter.
To Assemble
7. Place one cake on the board/plate. Spread half of the icing on the cake with an offset spatula and sprinkle with chopped crystalised ginger. Place the second cake on top and spread the remaining icing on top of the cake. Sprinkle with more ginger and coconut flakes and enjoy!
You can view more of Pearly's recipes on Instagram and Facebook!