If you're not eating chocolate on Easter morning, it's probably because you're eating hot cross buns instead.
Baking homemade hot cross buns will always add an extra special touch. This recipe will make enough for you to share and gift to loved ones over Easter.
This recipe was kindly shared with Love Baking Club, from the amazing Monica Cavallaro from Moreish Cakes. You might have noticed some of her amazing wedding cakes on Married At First Sight or you may have done a workshop with her at the Cake Bake & Sweets Show.
If you enjoy baking this recipe, make sure you follow Monica on Instagram and Facebook and take a look at her website for more delicious recipes.
Ingredients
1 kilo of strong bakers flour, ideally high protein.
75 grams of extra flour to make the slurry
50 grams of mixed spices (cinnamon, ginger, nutmeg etc)
80 grams of caster sugar
50 grams of dark sugar
1 teaspoon of vanilla bean paste
30 grams of salt
30 grams of dried yeast
1 teaspoon of bread improver
80 grams unsalted butter
600 ml milk
2 organic large eggs
60 grams honey or apricot jam
400 grams of sultanas or raisins or currants or mixed dried fruit or go crazy and use chopped up dried tropical mix!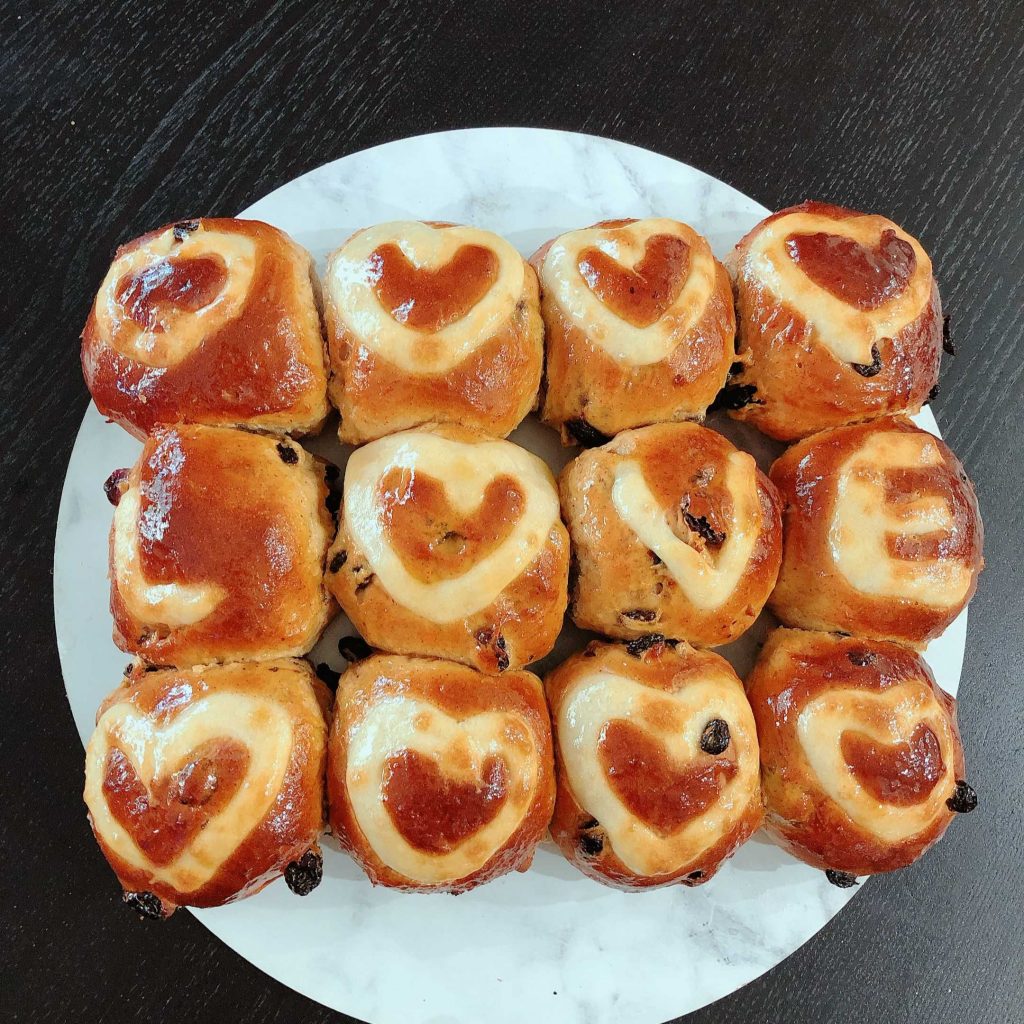 Method
First up, time to create a yeast rave party! Warm the milk in the microwave for 20 seconds, take it out, and add in a spoon of the caster sugar and the yeast – cover the container with a towel and leave in a warm spot for 15 minutes for the yeast to wake up and start raving. You are looking for it to get really frothy! Handy tip – use a container that has room for the rave party to rise.
Now, when it comes to dough, if you wish to be lazy or don't want sore shoulders, use a bench top mixer, with a dough hook.
If you prefer old school, don't have a mixer or like the idea of working hard for your breads and dough, opt for the hand kneading method.
For the mixers, place your dry ingredients into your mixing bowl, form a well in the middle, add in the wet ingredients bar the sultanas honey/jam and the butter and crank your machine to low to knead for 3 to 4 minutes, then add in the butter and further knead for another 6 minutes.
For hand kneaders, find a great work surface that you can clean off later and lots of room. Place all the dry ingredients into a heap, think a mountain of dry goodies (bar the fruit) then form a crater in the middle. Pour in the yeast rave party, the eggs etc, all ingredients bar the butter, honey/jam and the fruit – using your finger tip, begin to draw in a little flour and mix into the wet ingredients until all the flour is incorporated and you can knead the dough – knead for 3 to 4 mins and then add in the butter, continue to knead for a further 6 minutes until the dough is silky smooth and no longer sticky.
Pro tip: You will get a better dough hand kneading than using the machine.
Once your dough is done, you can knead in the fruit you selected, cover your dough in a large bowl and leave in a warm spot for 45 minutes to prove and rise.
While the dough is doing its thing, make a slurry for the words on your buns by combining plain flour and little water until it's thick and holds its shape (so not runny and not hard) You only need a small amount, place it into a piping bag and leave aside for now. Approx 75 grams of flour to 5 tablespoons of water.
Now a handy tip, if you have a spray bottle, add some water, and give them a nice spray of water (don't drown them, think "moist") Oil spray a little cling wrap and cover them but not tightly as they need to grow – place them in a warm spot for a further 45 minutes for their second rise.
Once the second rise has happened, turn your oven to 175 degrees to preheat.
Using your slurry, pipe some special messages onto your buns – be creative, have some fun! For example Monica wrote "Mum" to give that batch to her mum, and "Wife" as she needs a batch all to myself, and of course "Love" for her beautiful family.
Give them another last spray of water and shove them into the oven to do their magic for 20 to 22 minutes or until they are a nice golden brown.
When they come of the oven, mix the honey with a little water or the jam with a little water and brush it gently over the buns while they are hot to give them their signature shine.
These are best eaten on the day they are baked with butter or eat them hot from the oven like I do! Enjoy!