No doubt you've heard about, with newsfeeds across the country being flooded with drool-worthy videos and images of bright pink desserts, all thanks to the newest addition to the chocolate family, Ruby RB1 chocolate.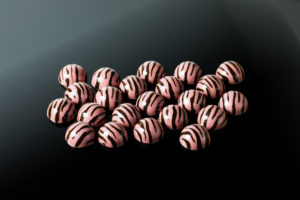 Barry Callebaut is the company behind this delicious discovery, which they released to the world in September last year.  As the newest flavour of chocolate to be discovered in 80 years, ruby makes up the fourth type of chocolate after dark, milk and white. A unique discovery, ruby chocolate acquires a distinctive fruity flavour, with sour notes and is pink in appearance, which all occurs naturally. Believe it or not, no colouring or flavour has been added to the ruby chocolate, rather, its pink appearance and unique taste has been derived from carefully selected 'ruby' cocoa beans – amazing, right!
Australia's Queen of Chocolate and hot favourite for Cake, Bake and Sweets Show, Kirsten Tibballs, is the Global Ambassador for Callebaut and is one of the few people fortunate enough to get her sweet hands on ruby chocolate. Of the new chocolate Kirsten says, "ruby RB1 is one of the most exciting things to happen to the chocolate industry in decades. It opens up a whole new world of ideas and makes you rethink everything you thought you knew about chocolate."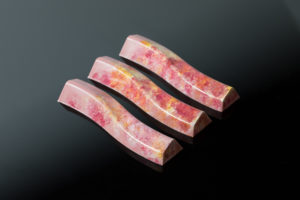 When ruby chocolate was first discovered over a decade ago, researchers found out that ruby chocolate was linked to precursors in a specific type of bean: the "ruby" cocoa bean. Identifying the ruby cocoa beans, which hold plenty of these precursors, and finding the best way to process the beans during the development of the chocolate has actually taken many years of research. Callebaut's ruby RB1 owes its colour and specific taste to expert selection and careful processing of the ruby beans.
This new discovery of chocolate is a win for all of the sweet tooths out there, and will no doubt be a keen addition to our favourite desserts on display at our much-loved bakeries and patisseries, when it launches to industry in Australia, this September.