My favorite celebration of the year is Halloween, Why? Well mostly because of candy and all you see around you is creativity of the people. And many say it is not easy to have a Halloween party because you need to put so much thoughts in to your Halloween treats. But it is not that hard. Have a look at these easy recipes and though they are easy they look gruesome and delicious at the same time. These recipes are just giving a Halloween twist to the regular desserts! Try these I am certain you are going to love them!
Witches Cake Pops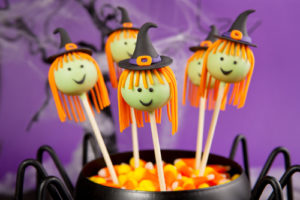 This dessert is easy and cute. Color your cake pops in green as a witch face then decorate it anyway you like.
I have used orange fondant to create hair and little witch hats are made of black fondant icing. you can add any colors or any edible decor to it. Get creative!
Mummy Macaroon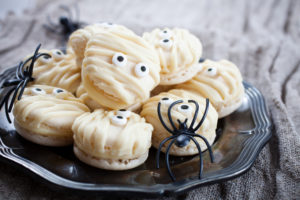 The easiest Halloween Dessert Ever! Cover some vanilla macaroons with frosting and spook it up with candy eyes.You can even decorate them with little spiders to give more of a scary look!
BOO!Fudge Brownies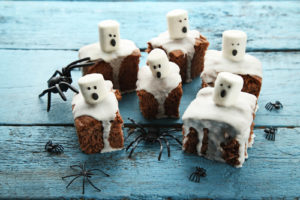 Decorate your normal brownies with white icing and make it look dripping.Stick white marshmallows on the top of it. Do not forget to draw a face on it. Now you got scary boo brownies.
Evil Eye Cupcakes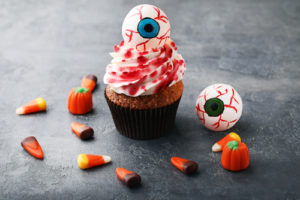 To make this gruesome cupcake icing a vanilla cupcake with white frosting and add a edible eye ball on the top of it.To make the kids cringe add a few drops of red food coloring on the top of white frosting.
Pumpkin Patch Chocolate Pudding in a Jar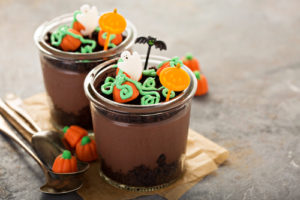 This dessert look amazing and give Halloween vibes. what is a Halloween without pumpkin anyways?
This is very easy to make. put the chocolate pudding in a jar on a crushed Oreo cookies base. and sprinkle crushed cookies on the top as well, now it is decorating time!
I have added little ghost figures, bats and pumpkins. Get creative you can decorate it however you like. Chocolate spiders, eye bowls, Oreo bats anything would work.
Graveyard Brownies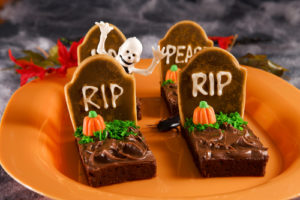 Brownies are already amazing as they are and they are a perfect Halloween dessert.  Add melted chocolate on the brownie top to make it look like mud and you can add any decoration you want on it.
Vampire Cake pops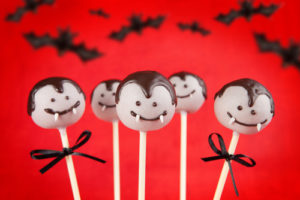 Add a Halloween twist to normal white cake pops. Such an easy but amazing looking Halloween treat
Enjoy your party with these easy Halloween treats!